Click the image below to read about our 55th Anniversary!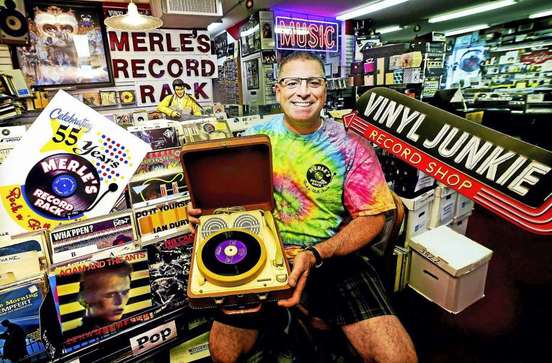 Merle's Record Rack is Connecticut's home for vintage vinyl records albums and CDs. We specialize in audio/video transfers, digitization, and duplication. We have decades of experience in stereo repair/electronic service and sales. Merle's is a fully stocked Rock Shop with a great selection of vintage audio gear. Join us on Facebook for regular updates! Stop in to see our store, our staff is ready to help you.
Call us at 203-795-9033
Check out our latest feature on FOX 61 News!

Merle's Record Rack was founded in 1962 in New Haven, Connecticut. What was once a record empire sprawling across southern CT is now entirely encompassed in the heart of Orange, CT. With record stores few and far between, Merle's Record Rack and its employees work to honor and uphold all that comes with music and memories.
Merle's sells used records, CDs, vintage stereo equipment, memorabilia and collectables. If you have old VHS tapes, 8mms, LPs and cassette tapes, bring them down to Merle's where we can transfer them to a more modern medium!
It's the mission of Merle's to preserve your music as well as your memories. Be it helping you find a copy of the first poster you ever owned, or transferring your grandfather's old messages home from war on pressed vinyl--we want to be a part of filling your ears with feelings old and new.

---

---

If we do not have in stock what you're looking for, we are happy to place an order. Merle's is becoming more and more of a commodity with every mp3 downloaded. But we can give you what one-dimensional downloads cannot. Here at Merle's you can touch history. A store that plays to tangible memories. And that--the preservation of time and the commitment to music as it should be--is why we are and will continue to persevere. Come in and give it a spin.



---
---